A rich vegan chocolate cake with stout, iced with a Baileys-inspired dairy-free frosting
It's my Dad's birthday and this is his birthday cake! I've been planning it for a while and I'm so pleased with how delicious it turned out.
It's an intense chocolate-y and stout-y cake with an amazing "Baileys" buttercream frosting.
The frosting was inspired by my vegan Irish Cream Ice Cream which uses Irish whiskey, a little bit of cocoa powder and a little bit of coffee to recreate the flavour of Baileys.
You wouldn't know the difference! And the cake itself is slightly adapted from a recipe I found over at Fat Girl Trapped in a Skinny Body.
At the time of creating this recipe, the only vegan Guinness option was Foreign Extra Guinness.
It's a lot stronger and more bitter but I think it works better in this cake as the flavour comes through a lot more.
However, I'm very very pleased to say that all forms of Guinness is now vegan-friendly.
More vegan Guinness and "Baileys" recipes:
Guinness Triple Chocolate Vegan Brownies
📖 Recipe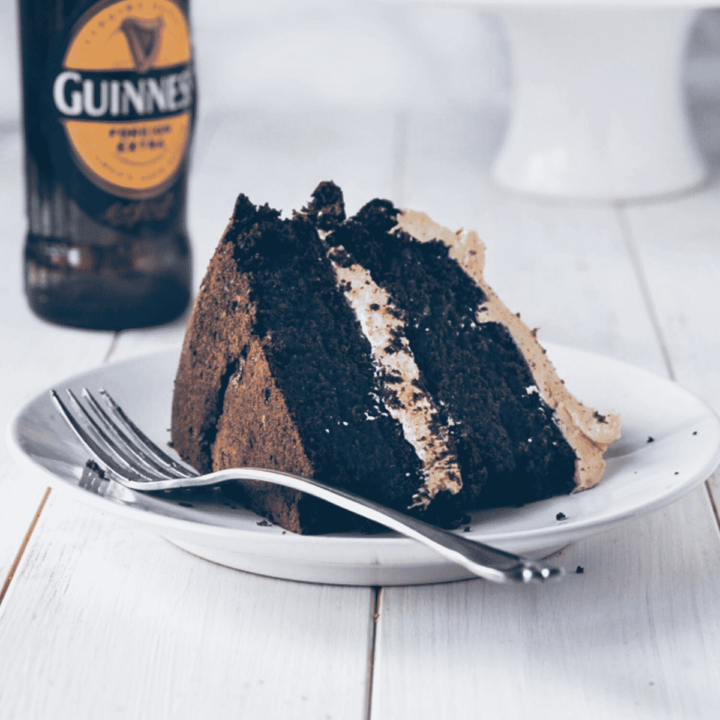 Vegan Guinness Chocolate Cake with "Baileys" Buttercream
A seriously indulgent vegan cake - Strong chocolate and stout flavour, with sweet Irish cream frosting. Great for birthdays or St Patrick's day celebrations.
Ingredients
For the Chocolate Guinness cake
250 g / 2 cups plain flour
120 g / 1 cup unsweetened cocoa powder
2 tsp baking soda
220 g / 1 cup caster sugar
100 g / ½ cup light brown sugar
½ tsp salt
480 ml / 2 cups Guinness
120 ml / ½ cup mild-flavoured vegetable oil
2 tsp white vinegar or apple cider vinegar 
1 tsp vanilla extract
For the "Baileys" buttercream frosting
250 g / 1 cup vegan butter, such as Naturli block
1 tsp vanilla extract
600 g / 5 cups icing sugar
2-3 tbsp Irish Whiskey, I used Jamesons
½ tsp cocoa powder
½ tsp very strongly brewed coffee
Instructions
Preheat oven to 170c / 350f. Grease and line two 8 inch sandwich tins.
In a bowl sift the flour, baking soda, cocoa powder, salt and sugars. Make a well in the centre, pour in the beer, oil and vanilla. Whisk until there are no lumps.
Pour into the prepared tins and bake for 25-30 minutes, until a cake tester comes out clean.
Once baked, let them cool for 15-20 minutes in their tins before transferring them onto a cooling rack.
To make the buttercream, cream the vegan butter and vanilla extract together in a stand mixer. Add the icing sugar in a large tbsp at a time until well mixed.
Beat in the whiskey, cocoa powder and brewed coffee. Taste and adjust quantities if needed until it tastes just like Baileys! Refrigerate for at least an hour before decorating, to make it easier to spread.
Once the cake has completely cooled (I recommend freezing it or keeping in the fridge overnight before decorating) spread the chilled frosting on top of one layer, sandwich the two layers together and then top the cake with the rest of the frosting.
Serve and enjoy! It will keep in the fridge for up to 3 days, covered.