I posted a photo of this recipe I made months ago on Instagram and promised I would post the recipe on the blog soon after… Well, it's a bit late but here it is!
One of my all-time favourite lunches, made vegan. Oh and by the way, you absolutely don't need to own a or grill to make this because I own neither! You can simply use a dry frying pan and a spatula instead.
I used to love Cafe Nero's tomato, basil & mozarella paninis and really had a craving for them so decided to make my own version. And I'm delighted to say – it's just as delicious!
The creamy, stretchy mozarella cheese is made from cashews and if you're new to veganism or simply can't have dairy and are missing cheese – you have got to try this.
You can find my basic cashew cheese sauce recipe here and this version is the exact same but with the addition of tapioca flour (or arrowroot powder) which makes it gooey and stretchy.
Perfect for toasted sandwiches, pizza and pasta dishes!
I mean. Just look…
And there are so many variations you can try, really you can add anything you want. I'm going to try it with a bit of dairy-free pesto next time and maybe some sun-dried tomatoes for a stronger flavour.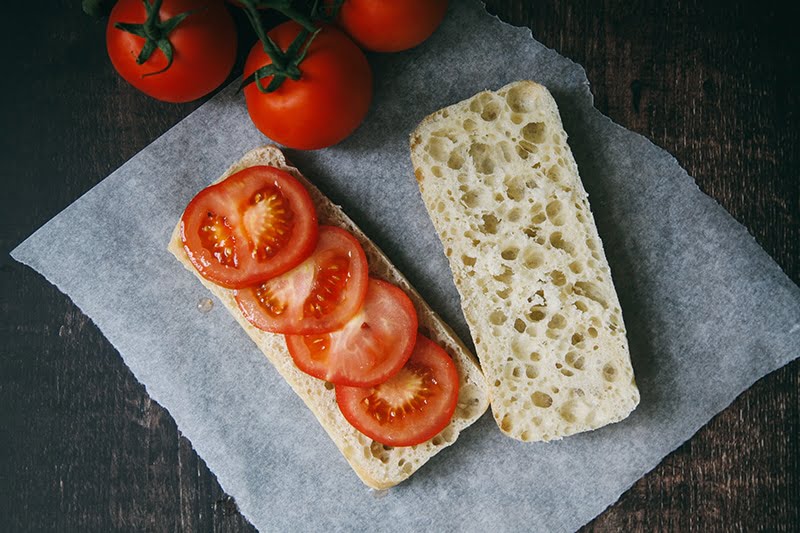 The cashew mozarella is the star of the recipe. First of all, the flavour is incredible and so hard to believe it's not dairy.
Then the addition of tapioca flour (or arrowroot powder) and a quick stir on the hob turns it into a bubbling, gooey, stretchy concoction which makes the perfect cheese for toasted sandwiches and also, by the way, an amazing pizza topping!
This is based on my original Cashew Cheese Sauce which I urge you to try, if you haven't tasted cashew cheese before. It will convert even the biggest of cheese-addicts.
📖 Recipe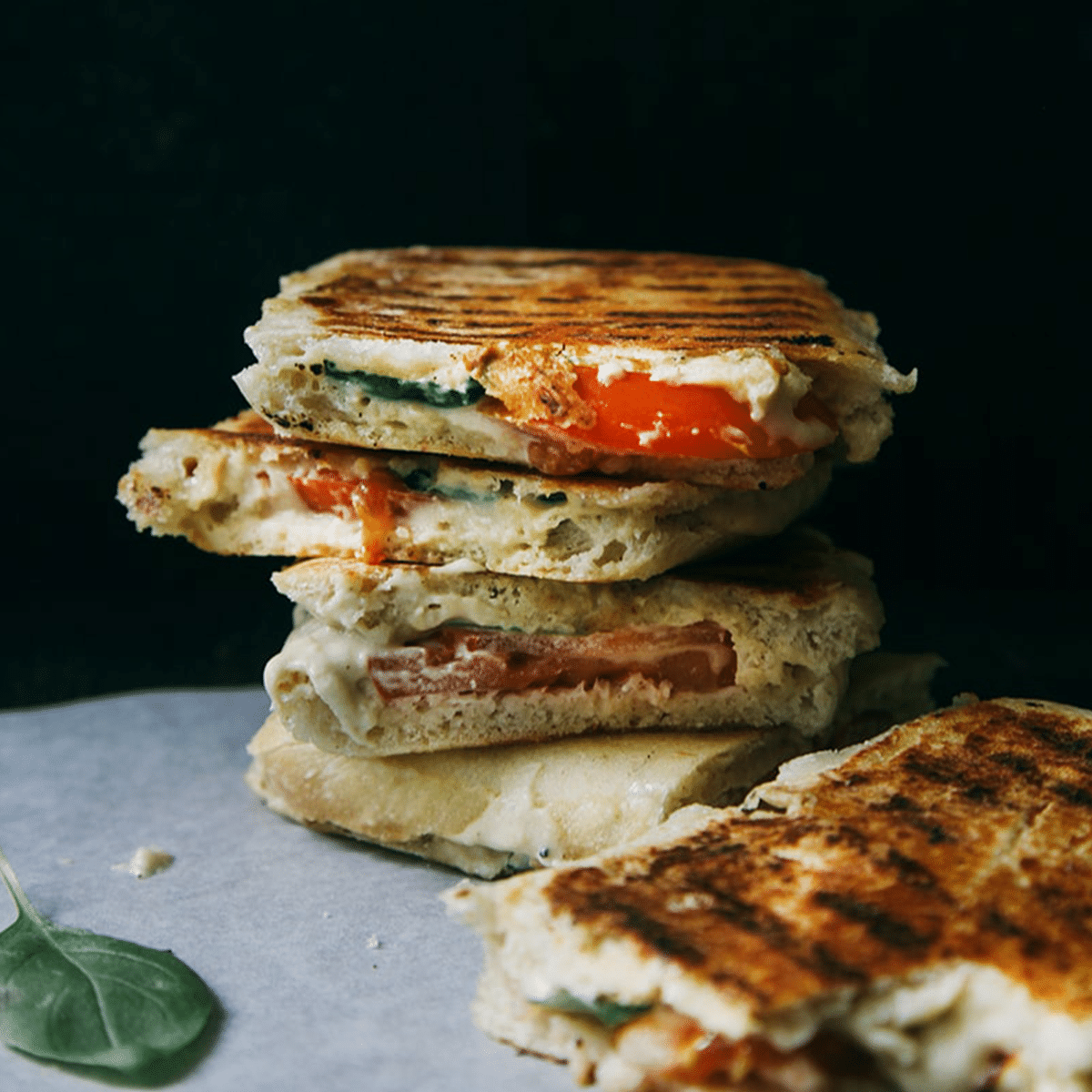 Vegan Caprese Panini
This vegan panini with tomatoes, basil and mozzarella makes an easy, satisfying lunch - no sandwich press required!
Ingredients
2 panini or ciabatta rolls
2 large tomatoes
2 handfuls of fresh basil
For the mozarella
75 g ½ cup cashews, soaked in water for a couple of hours or overnight
2 cups water
3 heaped tbsp arrowroot powder
2 tsp garlic powder
1 tsp onion powder
Salt and pepper, to taste
(optional but recommended) 3 tbsp nutritional yeast
(optional) 1 tbsp miso paste
Instructions
To make the cashew mozarella
Add the soaked cashews to a blender with the rest of the ingredients and blend until smooth.
Transfer to a saucepan and stir on a medium heat for a couple of minutes until the mixture starts to bubble and turn stretchy.
Remove from the heat.
To make the paninis
Cut the panini rolls lengthways and spread some cashew mozarella on both sides.
Cut the tomato into thin slices and assemble onto one side of the panini and top with a few fresh basil leaves.
Sandwich the two halves together and either cook in a panini press/grill or place on a dry frying pan on a medium heat and press down, using a spatula, for about 2 minutes on each side.
Cut the panini's in half and serve!