Creamy vegan Tomato Risotto with Roasted Veg, bursting with flavour. An easy and healthy weeknight meal that is both plant-based and gluten-free.
Risottos are one of my favourite dinners. When made right, they are rich and creamy, but not too heavy or stodgy.
This Vegan Tomato & Roasted Vegetable Risotto is perhaps my favourite of all.
Jump to:
Risotto rice picks up flavours so well, so there is a lot of potential to make a seriously amazing-tasting dish when you've got the makings of one in your stock cupboard.
I've come across many tips on making risottos over the years, some people make it out to sound very complicated but I actually consider it a very easy dish (which is part of the reason it's one of my favourites).
But for me, I find that these three tips, below, help yield the creamiest result.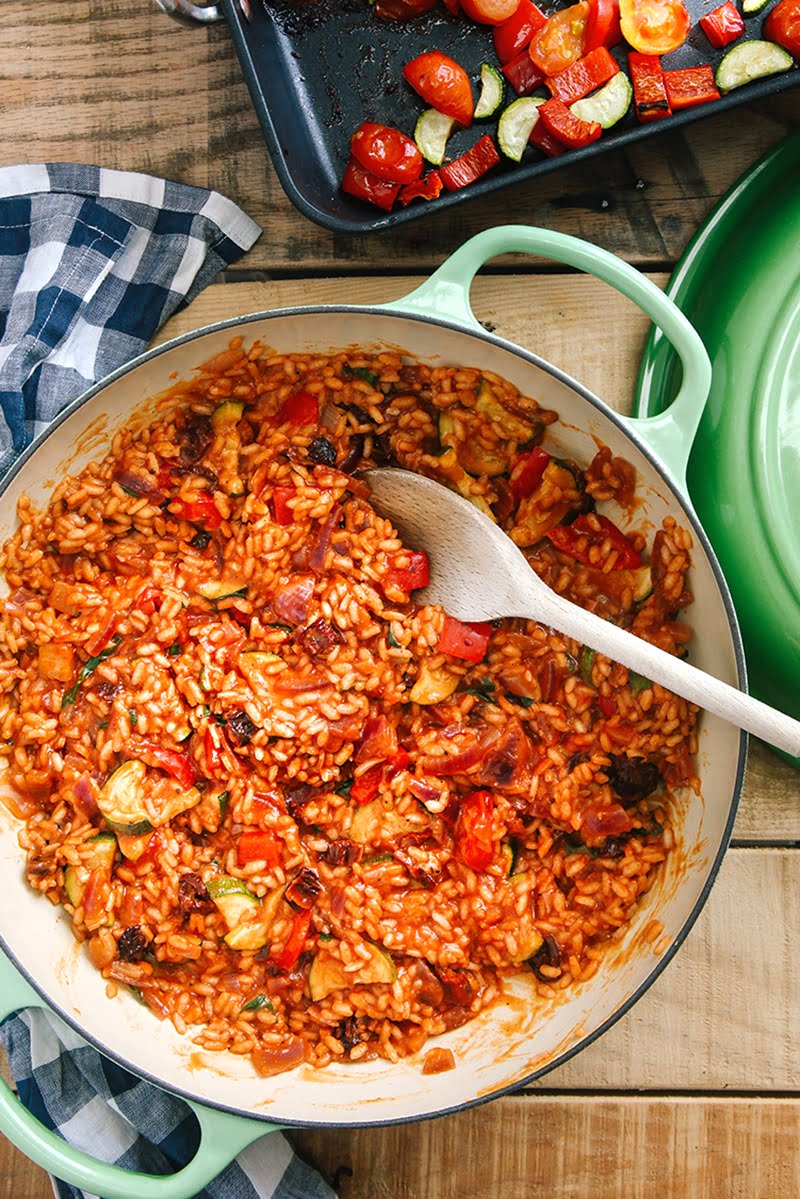 Vegan Risotto Making Tips
Stirring regularly. You don't have to stand over the stove, stirring constantly but regular stirring will help the rice release it's starch.


Adding the stock a cup at a time. Adding the stock in all in one go is simply just like boiling rice but we want a creamier result than that. So adding the stock in a bit at a time, waiting until each ladel-full has nearly been absorbed will help create that gluey texture.


"Mantecatura" - Loosely translated as "enrichment" or to give something a buttery texture. This is achieved at the end of the recipe, when the rice is almost cooked and the liquid has very nearly been absorbed. Remove the rice from the heat and stir for a couple of minutes, adding an extra ingredients, such as dairy-free butter, oil, vegan cheese, nooch or fresh herbs.
Recipe Shortcuts
Admittedly, I know roasting the vegetables does add extra time and effort to this dish BUT I do think it's absolutely worth it, flavour-wise. If you're short on time (or feeling lazy) feel free to sauté the vegetables instead.
Speaking of lazy, you can also buy frozen roasted Mediterranean vegetables for when you're in a pinch. It's not as good as fresh but still very enjoyable and great for when you can't make it to the shops.
📖 Recipe
Vegan Tomato & Roasted Vegetable Risotto
A creamy Tomato & Roasted Veg Risotto that is bursting with flavour. Vegan, no dairy and naturally gluten-free too.
Ingredients
For the roasted vegetables
1 tbsp olive oil
300 g / 10.5 oz cherry tomatoes
2 medium red bell peppers
1 large courgette / zucchini
A generous pinch of salt and pepper
For the risotto
1 tbsp olive oil
1 large red onion, diced
3 garlic cloves, minced
225 g / 8 oz risotto rice (Arborio)
1 tbsp balsamic vinegar
250 g / 8.8 oz passata or chopped tomatoes
250 ml / 1 cup vegetable stock
Approx 6 sun-dried tomatoes, chopped into small chunks
A small bunch of fresh basil, torn
Salt and pepper, to taste
(Optional) vegan parmesan or "nooch", to serve
Instructions
To roast the vegetables
Preheat the oven to 180C / 350F and add the olive oil to a roasting tin.
Chop the vegetables into small chunks and spread out in the tin, adding the salt and pepper before giving everything a shake to coat.
Roast for 30 minutes.
To make the risotto
Meanwhile, add olive oil to a shallow casserole dish or large frying pan, on a low-medium heat.
Sauté the onion for a few minutes before adding the minced garlic and cooking for another minute.
Stir in the rice with the vinegar and stir for approx 30 seconds, to coat it in the oil.
Pour in the passata and vegetable stock, ½ cup at a time, alternating between the two. Allow each amount to be absorbed by the rice before adding the next.
After 20 minutes, add in the sundried tomatoes and the roasted vegetables. Give everything a stir and cook for a further 5 minutes until everything is cooked through and the rice is done. Don't be afraid to add more liquid or extra passata, as needed.
Remove from the heat and stir in the basil, salt and pepper and vegan cheese (if using). Feel free to stir in any extra oil or dairy-free butter at this point for an extra creamy risotto.
Serve right away and enjoy!
Recommended Products
As an Amazon Associate and member of other affiliate programs, I earn from qualifying purchases.
Nutrition Information
Yield

4
Serving Size

¼ recipe
Amount Per Serving
Calories

357
Total Fat

8.8g
Saturated Fat

1.3g
Trans Fat

0g
Cholesterol

0mg
Sodium

230mg
Carbohydrates

62.3g
Fiber

4.8g
Sugar

10.6g
Protein

9.2g
Nutritional information isn't always accurate. This data was calculated using Cronometer.