My dad isn't vegan or veggie but me and my mum are so he's definitely used to veggie meals and he loves them! When I make Sunday roasts, I used to say "and I'll leave you to make whatever meat you want with it" but lately he just says "I don't need it – it's delicious without!" which always makes me happy. Since he loves the meals I make, I'm sure he could happily survive as a vegetarian or vegan.
What I really love though, is that when I asked him "what would you like me to bake you for Father's Day?" He requested my rosewater scones! An unusual (but adorable) request for such an occasion. I think I'll save them for a Mother's Day round-up though…
Anyway, here are 14 recipes that I think any dads would love for father's day, whether they're vegan or not!
Sweet
VEGAN SNICKERS CUPS
I know my dad would LOVE these and I'm willing to bet yours would too! Bianca from ElephantasticVegan.com has made her own version with these chocolate cups that are healthy, delicious and simple to make.
Chocolate Guinness Cake with Irish Cream Frosting
I made this recipe for St Patrick's Day but my dad loved it so much, I made it again for him for his birthday last year! Regular Guinness isn't vegan (although it's going to be very soon!) but you can find the "Extra Stout" variety which is vegan-friendly. If you can't find that, of course you can just use any good-tasting vegan stout.
Beer Waffle Sundaes
I would only make these for my dad if I could have a plate of my own too because I wouldn't be able to make this and not eat it. It looks SO good! Jackie from TheBeeroness.com has so many amazing beer recipes, many vegan-friendly :-)
HEALTHY NO-COOK PEANUT BUTTER FUDGE
How good does this fudge by Gin from EatHealthyEatHappy.com look? Not only that but it's no-cook and healthy too!
BLACK FOREST CAKE
Decadent and moist, but secretly healthy, this cake by Lucie from Win-WinFood.com looks to die for!
Baked Banana Puddings with Boozy Rum Caramel
Oh my goodness. What father wouldn't want this Banana pudding with Rum Caramel by Melanie from AVirtualVegan.com for dessert!?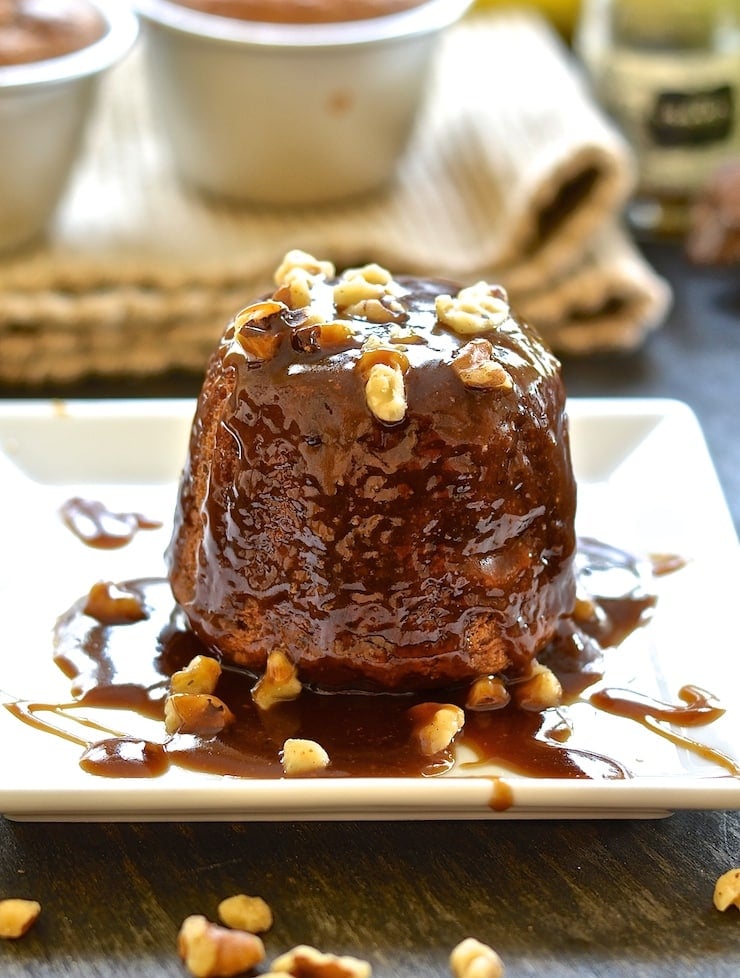 Coffee Ice Cream Cake
This would be an amazing dessert for this time of year. Love this indulgent and delicious-sounding ice cream cake by TheMisfitBaker.com!
Savoury
WHISKEY LENTIL VEGAN SHEPHERD'S PIE
I know it's not the time of year for this sort of comfort food but how could anyone say no to this whiskey shepherd's pie by Alissa from ConnoisseurusVeg.com? My Dad would love this any time of year, I think!
"Bacon" Cashews
I've had my eye on this recipe by Becky from GlueAndGlitter.com for a while. I have some liquid smoke in the cupboard that I never use, so this might be the perfect opportunity!
BLACK BEAN WALNUT BURGERS WITH SAUCY SWEET ONIONS
Traci from VanillaAndBean.com's Black Bean & Walnut Burgers look completely drool-worthy! Meat-eaters and veggies alike would love this recipe…
VEGAN MUSHROOM PEPPER STEAK
I might have to make this one for my dad! Jenn from VeggieInspiredJourney.com's Mushroom Pepper Steak would be an amazing option for father's day dinner.
CAULIFLOWER STEAK SANDWICH WITH ROMESCO SAUCE
Who could say no to this sandwich by Aysegul from FoolProofLiving.com? So much flavour and "meatiness" without the meat!
BEER BATTERED MUSHROOMS
I have a deep-fat fryer that is very neglected but I think I might have to use it again soon to make these battered mushrooms by Becca from Amuse-Your-Bouche.com! Anything "beer battered" and I'm sure my dad would gladly oblige.
WHISKEY AND MAPLE ROASTED NUTS
These roasted nuts by Evi from GreenEvi.com would make a fantastic father's day gift! You could wrap it in a paper bag or jar to give as a gift (and keep some for yourself, of course).
creamy beer soup w/ black lentils + chives
This soup by Sarah from WellAndFull.com is definitely a more autumnal recipe but it looks so good, I know my dad would enjoy it, even in the height of summer!
Have you got anything special planned for father's day? What would be your dad's favourite thing to eat?